Getting started with Microsoft Dynamics NAV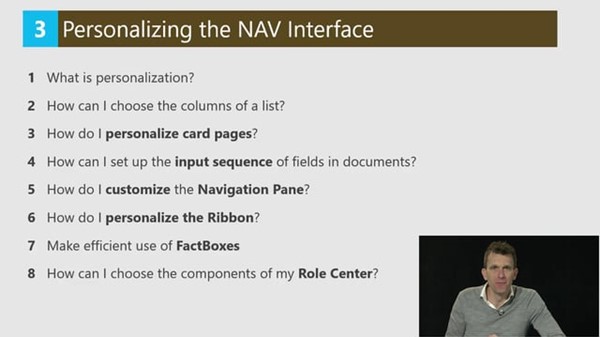 Getting started with Microsoft Dynamics NAV
1 - Welcome

2 - Starting Microsoft Dynamics NAV

(00:35) Overview

(02:01) How do I start NAV?

(04:13) How do I select the right company?

(04:10) How do I set the Work Date?

(00:00) How can I choose the language in which I want to work?

(05:40) How can I enter and modify data?

(02:28) How do I work with the keyboard in NAV?

(00:22) Review

3 - Exploring the NAV interface

(00:50) Overview

(01:40) The Role Center

(04:23) How do I change the Role Center?

(01:12) The Ribbon

(02:52) The Navigation Pane

(01:04) The Application Menu

(03:47) List and Card Pages

(00:35) Review

4 - Personalizing the NAV interface

(00:55) Overview

(01:51) What is personalization?

(05:10) How can I choose the columns of a list?

(06:37) How do I personalize card pages?

(05:12) How can I set up the input sequence of fields in documents?

(08:19) How do I customize the Navigation Pane?

(07:04) How do I personalize the Ribbon?

(05:27) Make efficient use of FactBoxes

(02:36) How can I choose the components of my Role Center?

(05:47) Set up Enhanced Cues to show KPI's

(00:37) Review

5 - Course review
What is covered by this Microsoft Dynamics NAV course?
As a Microsoft Dynamics NAV user you want to work as efficient as possible.
In this course you can learn how to easily start NAV, but also how to set the work date.
Next you get to know the different components of the NAV interface, and you learn how to personalize it. We show you how you can choose the columns of a list. But did you know that you can set up KPI's in your role center?
After following this course, you will be able personalize NAV based on your daily professional routines.
The course Getting started with Microsoft Dynamics NAV is a must-see for everyone wanting to work smoothly with Microsoft Dynamics NAV 2013/2015.
Similar Microsoft Dynamics NAV courses